Showtime

,

Gianfranco takes a fresh look on Magic

!
Far away from the rabbit out of the hat, Gianfranco's stage performances will not leave you indifferent!
Dynamic, technological, young, the well-crafted tricks of the Geneva Magician will reach your heart.
Magic and emotions combine for an unforgettable show
!
For a corporate evening, a wedding, a birthday, let yourself be amazed by a mesmerizing show . Between poetry and magic, between laughter and emotions, Gianfranco brings you a real moment of magic, for you and your guests.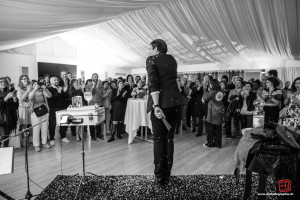 Magic gets Fresh and Young
…
With his dynamic style full of humor and emotions, Gianfranco will bring the smile and fascination on your guests faces. Magic like you haven't seen before !
Be amazed watching one of your guest floating in the air and more well-kept secrets !!
Get ready, the curtain opens and the show will begin …
You want BIGGER ? There is no limit to your imagination ! Let yourself be amazed by Grand Illusions…