« A Magical moment for the whole Family! »
This incredible magician takes you on a unique journey in which everyone becomes for a moment, a little bit magician. For nearly an hour you will experience moments of laughter, moments of emotion, and moments of pure magic. You will have no other choice but to enter the magic world of Gianfranco by watching with amazement the impossible coming true and by becoming the actors of this unforgettable moment!
This show, for which parents have as much fun than their children, can be played almost anywhere and in many conditions. Complete show with background.
Ideal for Cultural Programming, Primary Schools, Festivals, Christmas Partys for companies, Family Events, etc…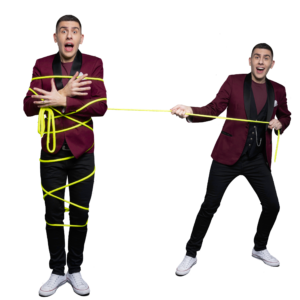 A show adapted to your event 
!
From Birthday Partys to Family Events, Corporate Christmas Party and School Show, we guarantee that the magic will be there. The children, very proud to have been able to participate in the tricks, will not see the time pass! As if he had disappeared … With the wave of a magic wand! But the memory of this wonderful event will remain forever  engraved in their minds !
Smaller Event

? 
The birthday party, that's the perfect moment for a magic Show !
In this Show, tailor made fo kid's birthday party. Gianfranco will take you to a very magical journey, a real show at home!  This is a show intended for children but which does not forget the adults … For 50 minutes we will travel in the universe of a true Magician by discovering the magic wands, the appropriate magic words, the miracle of levitation and many other secrets …